Getting healthy can be an anxiety ridden experience.  As our bodies detoxify, we are left feeling sluggish, spacey, stiff and possibly suffering from a headache. It can be hard to stay focused and keep on the detoxifying path.
Try our Lavender Bath Soak Kit to help ease the transition into being healthy.  The Lavender and Eucalyptus will soothe your nerves and joints while the clay and salts will draw toxins out of your body-easing muscular discomfort and improving your skin tone.  So not only will you feel better- you will look healthier too!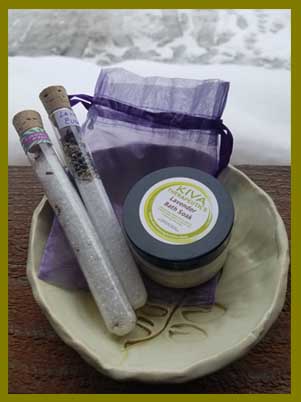 4 oz Lavender Bath Soak- Add to your bath water or mix with the fluid of your choice for a great detoxifying mask.  Try an oil for dry skin, aloe vera for sensitive skin, or a soap for oily skin.
Two Lavender, Eucalyptus Bath Salt Tubes- Add a tube to your bath water or stop the tub while showering and stand and detox while you shower.
Give us a call to order yours or stop by our Priest Lake Location on HWY 57. 208-946-1226; info@kivatherapeutics.com